Hollywood Smile (Teeth Veneers) in Iran
Smiling is the way we use to express joy and happiness. That movement of your lips can tell others that you are happy. However, a lot of people who have bad teeth do not feel comfortable smiling.
If you are not one of those lucky ones who are born with white perfect teeth, you do not have to hide your teeth or stop smiling. In fact, some treatments such as Hollywood smile will give the white pearl smile of movie stars. Stay with us to know more about Hollywood smile (teeth veneers) in Iran.
Hollywood Smile packages in Iran
Composite veneer (3 days)
each tooth

$ 80

16 teeth

$ 1,280

20 teeth

$ 1,580
Laminate veneer (14 days)
each tooth

$ 220

16 teeth

$ 3,490

20 teeth

$ 4,290
All-inclusive packages
Visa
Treatment Visa (T-visa)
Medical Services
Surgery, Lab tests, Medical photography, Medications, Surgeon visits
Travel Services
VIP Transfer (Airport/Hotel/Clinic), Medical Guide, Travel Insurance, Sim-card and Internet
Accommodation
3 to 5 Star Hotels Near Your Clinic/Hospital
Dental veneers cost
The cost of dental veneers varies depending on the type of veneers you choose. There can be huge differences in veneers prices. Another thing to keep in mind that the cost of veneers can change dramatically from one country to another.
Since dental veneers is not covered by insurance, you will have to pay yourself for the treatment. And the prices of dental veneers are like the following:
In the United states of America:
Dental veneers are very expensive in the United States of America. If you want to have veneers, you should expect these prices per tooth:
Porcelain veneers from $900 to $2,500
Composite veneers from $600 to $1,500
Lumineers from $800 to $2,000
In the United Kingdom:
Porcelain veneers from $500 to $1,300
Composite veneers from $130 to $550
Lumineers from $1,200 to $1,300
In Turkey:
Porcelain veneers start from $240
Composite veneers start from $110
Lumineers starts from $190
In Iran:
The prices in Iran are lower, and you can expect the prices as the following
Porcelain veneers from $150 to $350
Composite veneers $40 to 60
Lumineers around $200
Dental veneer in summary
| | |
| --- | --- |
| Hospital stay | No need |
| Trip length | 2-3 days |
| Surgery duration | 6-8 hours |
| Anesthesia | Nothing |
| Recovery time | 3 days |
Hollywood Smile (Teeth Veneers) in Iran:
All You Need to Know
What is teeth veneer?
Dental veneers are thin shells that are made in the shape of different teeth. They are bonded to the front side of the teeth to hide any faultiness or damage in the teeth such as:
Teeth discoloration
Broken teeth
Decay
Crooked teeth
Gaps between the teeth
Hollywood Smile in Iran
Hollywood smile is one of the cosmetic dentistry procedures that aims to change the overall looks of your teeth and give you perfect white teeth. Having a Hollywood smile procedure will change the shape, size and color of your teeth and fix any aesthetic problems with your teeth.
There are multiple methods to achieve Hollywood smile such as the use of dental veneers, dental crowns, or dental implants. The method used to achieve Hollywood smile will depend on the current condition of the teeth and personal preferences.
If you want to have Hollywood smile with dental veneers, it is essential to have all of your teeth present. If there are some missing teeth, the dentist will suggest using dental crowns or dental implants based on the circumstances.
Hollywood smile is a popular cosmetic procedure in Iran. People opt to have Hollywood smile in Iran due to the high quality of the results and the low prices. The cost of having Hollywood smile in Iran is around the quarter of what you have to pay in the United States of America even as we include the extra expenses like the costs of the plane tickets and the hotel stay in the country.
How long should I stay in Iran for Hollywood smile?
Hollywood smile procedure requires multiple visits to the dentist. Typically, you will need from two to three visits to the dentist to have a Hollywood smile. Therefore, when you travel to Iran for having a Hollywood smile, you need to expect to stay there from three days to two weeks.
Teeth Veneers in Iran
There are several types of dental veneers with variety of differences between them in matters of prices and the period they last. The main types of veneers are:
1- Porcelain Veneers
Porcelain veneers are the oldest type of veneers. They are made from high quality hardened ceramics that can last for around 10 to 20 years. Porcelain veneers will give you a natural look with less chances of breakage. However, they are the most expensive type of veneers.
2- Composite Veneers
Composite Veneers are made from resin or plastic; therefore, they are a lot cheaper. However, they have high durability and give the patient a natural look. Using composite veneers will result in less enamel removal from the teeth and less possible damage to the gum.
On the other hand, composite veneers have a shorter lifespan. They usually last between 5 to 7 years. They require good care as they are more prone to breakage.
3- Lumineers
Lumineers are new and novel type of veneers. They are very thin shells that are made from a special material called Cerinate. Despite being thinner, they are quite durable. Lumineers will not provide the same natural looking teeth as porcelain but they are more affordable.
How are Veneers attached to teeth?
Before applying the bonding material to the teeth, they will be trimmed and some of the enamel will be removed from the teeth (equal to the thickness of the veneer). After that, the dentist will make a model of your teeth and send it to the lab to prepare the veneers.
The dentist will use a special adhesive to attach the veneers to the teeth. But before that, the dentist will use another adhesive to form a temporary bonding. This is just to make sure the veneers fit perfectly to the teeth and the color is correct.
If there is a problem with the fitting, the dentist will trim the veneers and adjust them for better fit. As for the color, it will be changed with the use of the bonding material.
Frequently Asked Questions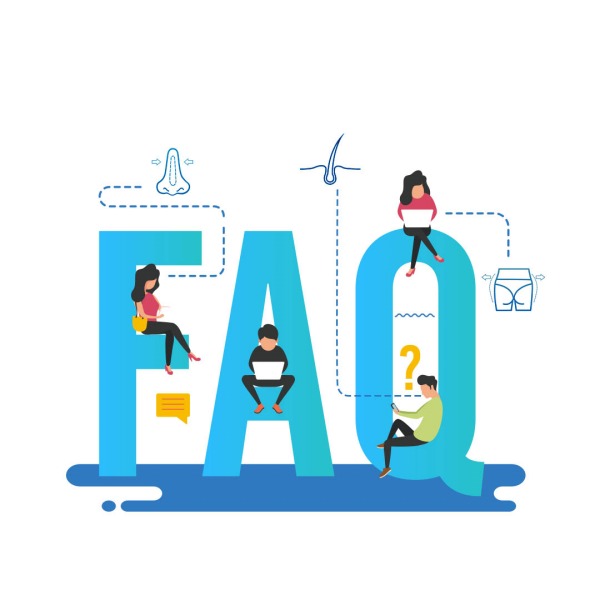 Dental veneers are designed to stay on your teeth permanently. This means that they are not meant to be removed after a period of time. However, you may need to replace dental veneers or some of them after few years.
Dental veneers usually last for 5 to 20 years before you need to have them maintained (the period of time is different based on the type of veneers and how much you take care of them).
No. you need your teeth to be present to use dental Veneers. Dental veneers are meant to be placed over an existing tooth not as a replacement to it.
Dental veneers can be placed on both the lower and the upper teeth.
The short answer is NO. Dental veneers do not ruin your teeth as long as you have the procedure done by a qualified dentist. You will need to have some layers of your teeth removed, but they will remain safe and sound protected by the veneers.
There is no accurate answer to this question as veneers can last longer when you take good care of them, and some types of veneers last longer. However, we can say that porcelain veneers usually last from 10 to 20 years and composite veneers usually last from 5 to 7 years.
Get Your Free Consultation
If you have questions about Hollywood smile in Iran, please fill out