Fat removal surgery
Diet and exercise are without doubt essential to lose weight and burn the fat stored in your body. However, there are many situations where they fail to help the patients get rid of their body fat. To accomplish the job, patients often seek the help of fate removal surgery to remove the extra fat from their bodies. If you are wondering about the possible ways to remove fat, keep reading this article.
What is fat removal surgery?
Fat removal surgery is a surgical procedure that removes stubborn fat deposits that do not respond to diet and exercise. Depending on how much fat you need to remove, there are two types of surgeries. Body contouring surgeries work well for removing stubborn body fat that you can not remove with exercise, while bariatric surgery is the option you need if you are overweight and need to lose a lot of fat.
There are several body fat removal retreatments, including:
 Cryolipolysis (CoolSculpting)

 Laser lipolysis

 Tummy tuck

 Radiofrequency lipolysis

 Liposuction

 Buccal Fat Removal
Body fat removal with Cryolipolysis
Cryolipolysis or fat freezing is a cosmetic technique that can help you get rid of fat cells using cold temperatures. Since cold can affect fat cells more than other cells, Cryolipolysis or CoolSculpting put fat cells in specific areas under low temperatures to cause them damage.
This method can work on several body areas such as arms, thighs, abdomen, and hips. Cryolipolysis does not provide immediate results. Your body will naturally remove the dead fat cells over the following few weeks.
Fat removal with Laser lipolysis
This treatment involves applying laser onto your skin to help you get rid of fat cells. The laser will make fat cells shrink; they will be removed from your body through the lymphatic system.
Laser lipolysis takes a few weeks for the results to show. It is a good option if you want to lose some weight. Plus, you can have several sessions to increase the amount of removed fat. It can be used to remove fat from your stomach, waist, face, and neck.
Radiofrequency lipolysis fat removal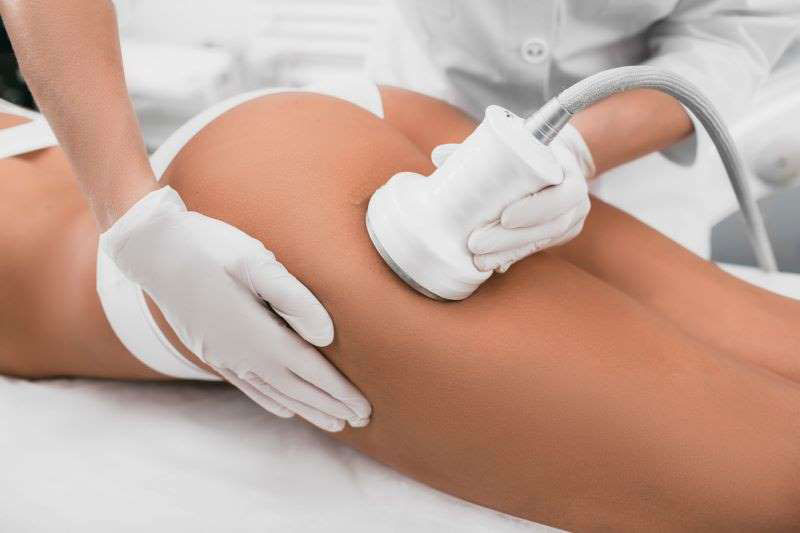 Radiofrequency lipolysis is another non-invasive fat removal method. The radiofrequency produced by the device vibrates the fat cells beneath the skin, thus heating them. When heated, fat cells are broken down into smaller parts and then removed through the liver from the body.
Your body will take some time to show the results of radiofrequency lipolysis. The treatment can be used on several body parts: the stomach, neck, hips, male breasts, thighs, and arms.
Body fat removal with liposuction
Unlike the previous methods, liposuction is a surgical procedure. However, it is a minimally invasive one. Liposuction removes body fat throughout a tiny incision made in the treated area. The treatment involves using a specific solution to extend the area. Afterward, the surgeon will use a suction tube to remove the fat.
Liposuction can be used to remove about 4 to 5 kg of body fat. The procedure can be applied to different areas such as the neck, abdomen, buttocks, thighs, and hips.